Baby knitting
Topic: quick projects
So, as a little person has appeared in my life, I am quite entranced with Baby Knitting. Autumn Sky Krisniski is my first grandchild, and making her new things to wear will be one of the pleasures I allow myself.
I learned to design patterns just after my fourth child was born. Those easy sweaters were on all my kids within a year, but my focus was mainly sweaters for years. Now I am finding all the other things that keep babies warm and comfortable quite charming to knit.
Such as Baby Leggings on baby Autumn's little 1 week old legs above.
To go along with the leggings, this sweet young thing is wearing only cloth diapers, and her mom is using Wool Soakers to keep them on, and provide a dampness barrier: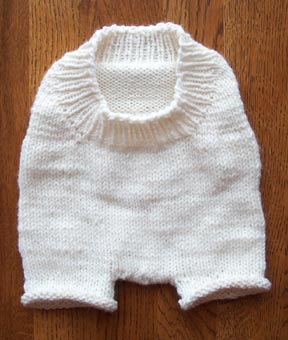 These baby pants have been TERRIFIC fun to design and knit, as the top is completely done with short rows. I started with some web resources, and some printed patterns from WW1 and have tweaked the fit to allow for a full set of two (or three) diapers, while keeping the legs firm enough to prevent "overflow". Autumn is wearing her fourth pair right now, as she grew out of the newborn size in 2 weeks.
The patterns are both available for sale here.
Posted by countrywool at 6:59 AM EST
Updated: Friday, 7 March 2008 7:00 AM EST