Gansey sweaters
Topic: gansey knitting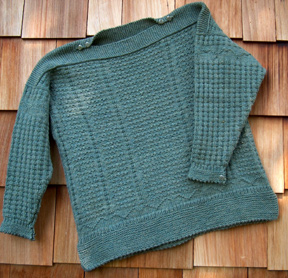 I love gansey/guernsey/fisherman knit/purl patterns. I like the fabric that they make. Sweaters constructed with them are warm to wear, interesting to look at and truly enjoyable to knit. They are not hard!

The shaping and construction of these sweaters is based in folk and tradition, and I find this enormously appealing. Folk knitting traditions leave the details to the knitter. The samples of old sweaters left for us to dissect are different enough to see the wonderful variations inherent in the context of such a garment. But they all share circular and seamless knitting construction where the knitter keeps building on the parts finished, so there are no pieces to keep track of or to seam.

This seems overwhelming to newer knitters, but once you get through your first sweater this way, you will never look back. There is an energy present that demands completion, and you just keep going. I find this process addictive, and I advocate for it.

This weekend folks will tackle one of 4 sweaters, and one of 2 hats at the Rip Van Winkle Knitting Retreat. I love weekend retreats where we all do one thing and do it thoroughly. There is room for beginners and true knitaholics at these things.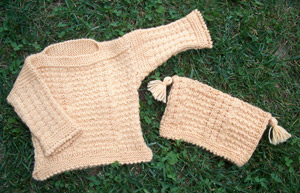 One can knit just a hat for a TRUE gauge swatch, stop there OR begin any sized sweater from 3 mo to 56" in two styles OR cast on (determinedly) and knit (seriously) through an entire 3 month sized gansey sweater, seeing how it all goes together while under my watchful eye.

The "Aha!" moments that occur during these knitathons is truly rewarding to the teacher in me. And the (knitting!)friends I make are priceless.


Posted by countrywool at 11:00 AM EDT