Knitting This Week
Topic: nordic knitting

This one's for Elizabeth, my fellow Children In Common knitfriend. She's the organizer of the CIC LIST that coordinates donated knit/crocheted/woven clothing for the thousands of kids in orphanages in the former Soviet Union. She's a sock knitting fiend, also.

The reindeer chart got tweaked a little in anticipation of multiple sock sizes ahead, and I am not happy with the color placement on the border charts, but a New Idea came to me last night and I'll work on it later this evening. (Pattern is on its way, E).

And, I finished another colorway for the Nordic Knitting Retreats. I like dark sweaters, and using black as a licing color gets me there while allowing for a real color as the base.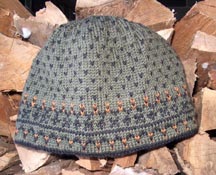 Dark sweaters are very practical to wear everyday, and HEILO is the best wearing 100% wool yarn I've ever knitted with. I plan to make my everyday sweaters and socks out of it from now on.

Posted by countrywool at 9:03 AM EST